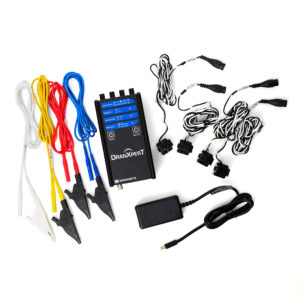 EDISON, NJ, USA — August 25, 2020 — Dranetz Technologies, Inc., a leading manufacturer of power monitoring instrumentation, software, and associated services, is pleased to announce a new portable energy and Power Quality (PQ) logger.
DranXperT is a low cost, accurate, lightweight, 3-phase power & energy logger for use in virtually any portable/temporary power monitoring application to determine power and energy usage. DranXperT's capabilities include:
Measures all common power parameters (V, I, W, VA, VAR, PF, demand, energy, etc.)
Highly accurate 4-quadrant, bidirectional meter to measure the direction of power flow in DER/alternative energy and other applications
Unique, 1 cycle PQ detection capabilities – records the RMS envelope of common PQ problems such as sags/dips, swells, and interruptions using the same techniques of much more costly instruments
Harmonic measurements for voltage & current
Free, unlicensed Dran-View XP software for analysis and reporting
Being a "Dranetz," DranXperT is not only a complete power and energy logger, but can also detect PQ problems to 1 AC cycle using the ½ cycle measurement methods of IEC 61000-4-30 Class S. DranXperT's measurements are second-to-none, and no other meter in this price class can come close to its capabilities.
DranXperT can be used in any local or remote power monitoring application. By using a standard Ethernet connection, DranXperT easily connects directly to a computer, or to a local/private/corporate network, and even the Internet. All real-time and recorded data is accessible by using a web browser on any computer, smartphone, or tablet with connectivity to the meter. Analysis and reporting is available by using Dran-View XP PC software. Dran-View XP is a free (unlicensed) version of our popular Dran-View software that was developed solely for use with DranXperT.
DranXperT is available in kits that include all needed accessories, such as voltage cables/clips, current transformers, and Dran-View XP software.
DranXperT will be available for shipment in mid-September with a 2- to 4-week lead time.
About Dranetz
For more than 50 years, Dranetz has been the global leader of intelligent monitoring solutions to meet advanced energy and power quality needs. With thousands of clients worldwide, its scalable solutions range from portable power quality analyzers to permanently installed energy and power quality instruments with complimentary software solutions. Dranetz provides a full suite of services, including personalized sales support, educational power quality seminars, consulting, customization, and on-site assistance.
The Dranetz corporate headquarters and manufacturing facility, located in Edison, New Jersey USA, also includes sales, product support, training, and manages the global sales distributor network. Dranetz proudly manufactures their products in the USA, and is also the supplier of Gossen Metrawatt's (GMC-I) test and measurement products in the Americas.
Contact:
Ross Ignall, Director of Product Management & Marketing
rignall@dranetz.com, +1732-287-3680