July 26, 2023 – Edison, NJ USA – Dranetz Technologies announces free and unlicensed Dran-View 7 Pro software.
Listening to the voice of the customer, effective immediately, Dranetz has removed the USB HASP key and other operational license requirements for Dran-View 7 (DV7) Pro. DV7 Pro users now have unlimited access to powerful software without the prior HASP key or other licensing concerns. USB HASP key and other operational licensing requirements remain for DV7 Enterprise.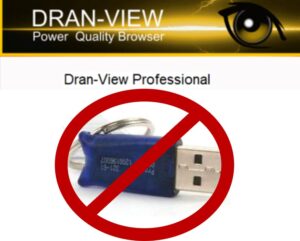 Dranetz Dran-View software, the most widely used power quality analysis software in the industry is offered in Pro and Enterprise versions. DV7 Pro unlocks the power of your Dranetz analyzer by providing meter communications, troubleshooting, analysis, reporting and other tools. DV7 Enterprise adds advanced computations, reporting, data importing, and other capabilities to the already powerful DV7 Pro software.
How will the unlicensed DV7 Pro software work? Download and install the latest DV7 software from our web site. If DV7 starts without the Enterprise HASP key installed, it will run in Pro mode on any compatible computer. If the DV7 Enterprise key or other license is installed when DV7 starts, it will operate in Enterprise mode. It's that simple.
This change is effective as of V7.10.08 which is available as a free download from our web site at: https://www.dranetz.com/technical-support-request/software-firmware-updates/.
Contact
Ross Ignall
Director of Product Management, Marketing and Technical Support
Dranetz Technologies
rignall@dranetz.com