EDISON, NJ, USA — October 14, 2020 — Dranetz Technologies, Inc., a leading manufacturer of power monitoring instrumentation, software, and associated services announces a new e-store.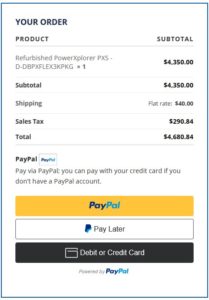 The e-store is a new addition to our web site that allows our customers to complete purchases online using a credit card directly on dranetz.com.
When browsing our web site, if you see a price associated with an item it can be purchased online. Like most online transactions, simply select the item, choose the quantity and add it to the Cart. Check out is simple using PayPal for secure credit card transactions. A PayPal account is not required, but can be used as a convenience. Tax exempt customers are welcome, but proof of exemption is required.
All Items available for online purchase can also be viewed directly in the e-store at: https://www.dranetz.com/product-category/product-store/.  Items initially available for online purchase are reconditioned instruments and our text books. We will be expanding the online purchase offering in the near future.
Note that Dranetz e-store purchases are only available for shipments within the United States. Please contact us for international shipments or to purchase products that are not available for online purchase.
About Dranetz
For more than 50 years, Dranetz has been the global leader of intelligent monitoring solutions to meet advanced energy and power quality needs. With thousands of clients worldwide, its scalable solutions range from portable power quality analyzers to permanently installed energy and power quality instruments with complimentary software solutions. Dranetz provides a full suite of services, including personalized sales support, educational power quality seminars, consulting, customization, and on-site assistance.
The Dranetz corporate headquarters and manufacturing facility, located in Edison, New Jersey USA, also includes sales, product support, training, and manages the global sales distributor network. Dranetz proudly manufactures their products in the USA, and is also the supplier of Gossen Metrawatt's test and measurement products in the Americas.
Contact: Ross Ignall, Director of Product Management & Marketing
rignall@dranetz.com, +1732-287-3680