Encore® Series System
Permanently Installed Power Quality Monitoring System
Protect Your Infrastructure
Dranetz was a first to pioneer permanently installed or fixed power quality monitoring systems. The web browser based Encore Series System, includes the 61000 family (61STD, 61SG, 61SGD), and is the first completely modular and configurable instrument to shatter the traditional 8-channel (4 voltage/4 current) instrument format. Now you can have your choice of voltage, current and data acquisition modules to build from one to four instruments in a single compact, cost-effective format. Uniquely designed with a modular chassis platform, these instruments can be completely customized to meet each specific monitoring application.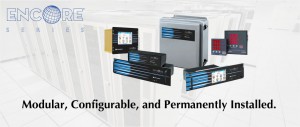 Our ES230, ES230s, ES210, ES220 family of demand and energy meters round out Encore Series' power monitoring capabilities by providing a complete power monitoring solution. Our system software, Encore Series Software automatically collects data from all instruments in your monitoring system in an easy to use, web browser based operating environment, allowing multiple users to simultaneously see data in real time, trend historical information, produce reports and even intelligently analyze data using our unique Answer Modules®. Whether your application requires demand and energy monitoring, power quality monitoring or both, Dranetz Encore Series System can meet your fixed system needs.
All Dranetz mainframes (Dranetz HDPQ, Dranetz PX5 Family, and Encore Series, are made in the USA

Dranetz products are sold direct from Dranetz, as well as via Sales Reps and Distributors worldwide.
Buy now!

Make sure you are buying the right tool for the job. Schedule a personal Dranetz product demo at your location, at your convenience.
Schedule A Demo

User Manual
Quick Reference Guide
Encore Software
ES 230/20/210
Accessories Catalog
IEC Certificate
Firmware Upgrade