Dranetz HDPQ Family and IEEE 519-2014
IEEE Std 519-2014, titled IEEE Recommended Practice and Requirements for Harmonic Control in Electric Power Systems, is the most recent revision of the IEEE recommended practices for harmonics measurement and compliance. IEEE 519-2014 is a revision to IEEE 519-1992 and includes some significant changes and updates to the compliance limits and how harmonics are measured.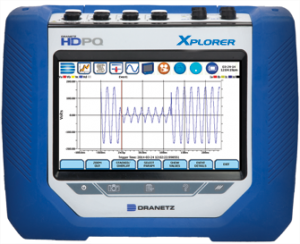 The Dranetz HDPQ family of instruments are the first to fully comply with the measurement requirements of IEEE 519-2014. IEEE 519-2014 references the international harmonics measurement standard IEC 61000-4-7 for its measurements. Although many PQ instruments available today measure to IEC 61000-4-7, IEEE 519-2014 adds two additional parameters, along with new statistics reporting for harmonic compliance. Therefore, instruments that only measure to IEC 61000-4-7 are missing required capabilities and only get you partially towards measuring compliance in accordance with IEEE 519- 2014. This application note focuses on the harmonic measurement and compliance reporting aspects of IEEE 519-2014 and how they apply to the Dranetz HDPQ family of products.
Dranetz HDPQ Family and IEEE 519-2014 Application Note –

Download PDF