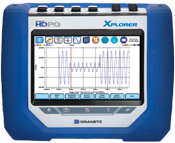 Dranetz HDPQ – Precise, High Quality Measurements
The Dranetz HDPQ Family Exceeds All Power Quality Monitoring Standards
The Dranetz HDPQ Family of Power Quality, Demand, and Energy Analyzers provide precise, high quality measurements that meet or exceed all of the current Power Quality monitoring standards at a price that can fit any budget! All Dranetz HDPQ instruments are UL listed and CE approved, measure to 1000V AC or DC and fully support the following globally accepted PQ monitoring standards:
IEC 61000-4-30 Class A. (Certified by an independent laboratory)
IEC 61000-4-7 & IEEE 519:2014 – Harmonics.
IEC 61000-4-15 & IEEE 1453 – Voltage Flicker.
IEEE 1159 – Power Quality.
EN 50160:2010 – European Power Quality.
And more…
For more information on how Dranetz HDPQ precision can save you money, and increase productivity contact Dranetz at (732) 287-3680, email us at sales@dranetz.com.
The Precision of Dranetz HDPQ Power Quality Analyzers – Video