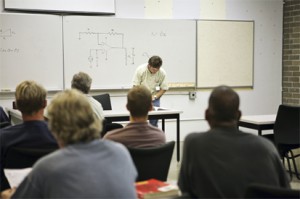 Hit The Ground Running!
Dranetz Power Quality Analyzer Product Training gives you the head start you need to hit the ground running. You've made the best choice to purchase Dranetz instruments and software. Now maximize your investment by ensuring you (or your team) have fully optimized the usage of our superior tools.   Learn More.
---
 

Power Quality Consulting Expert Consulting Services

Dranetz provides a variety of power quality consulting services expertly delivered through our sister company Electrotek Concepts. Power quality has become increasingly important for industrial and commercial electric power customers, particularly as today's manufacturing and control processes rely on computerized equipment which is sensitive to power system interruptions and disturbances.  Learn More.

---

Dranetz Power Quality Seminars

Power, Energy & Power Quality Educational Seminars

Dranetz provides free educational seminars in select cities in North and South America throughout the year. Many of these seminars are offered at no cost; while our more advanced seminars are only $495.00 for two days of training.  Learn More.