Portable Power Quality Analyzers
---

The Dranetz HDPQ merges the state-of-the-art power quality monitoring capabilities, with 'best in class' communication capabilities to provide a revolutionary monitoring experience.
Request A Quote
Schedule a Demo
Portable and IP65 SP Versions Available
Mobile Apps
Remote Wireless Communications
Large 7″ Viewing Screen (Portable Only)
Dranetz HDPQ SP – Power From the Phase
Compliance with Today's Safety Standards
All Dranetz HDPQ Power Monitoring Units carry a 3 year warranty
All Dranetz HDPQ Monitoring Units are made in the USA
---
Permanent Power Quality Systems


Dranetz HDPQ-DN – Enhanced Dranetz HDPQ Monitoring Technology for Fixed Systems

The Dranetz HDPQ DataNode (HDPQ-DN) takes our industry leading Dranetz HDPQ monitoring and communications technology to fixed systems. Building on the Dranetz HDPQ Portable and SP instruments, the HDPQ-DN is the 3rd instrument in the Dranetz HDPQ family. The HDPQ-DN is perfect for your new system, or as an upgrade or replacement for the 61000 (61STD), and is fully compatible with PQView DE (supersedes ESS), PQView® and Dran-View 7 software.

4 models available to meet any circuit connection need
IEC 61000-4-30 Edition 3 Class A compliant
Add to existing Encore Systems, or as a 61000 upgrade/replacement
Direct replacement for the 61000 (61STD) – Reuse all mounting hardware, pods, etc.
Instrument call back
PQDIF data storage

---
Encore Series – Ground Breaking Permanent Power Monitoring System

---
PX5 Family of Power Monitoring Products

The PX5 Family of Power Quality Monitors incorporate a color touch screen into a lightweight design. Applications include; troubleshooting, data logging, power quality surveys, energy and load balancing.
Captures and Characterizes Thousands of Parameters
Color Graphical User Interface
Easy Navigation
Made in the USA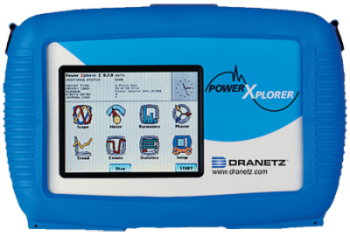 ---
 

Power Quality Software and Accessories